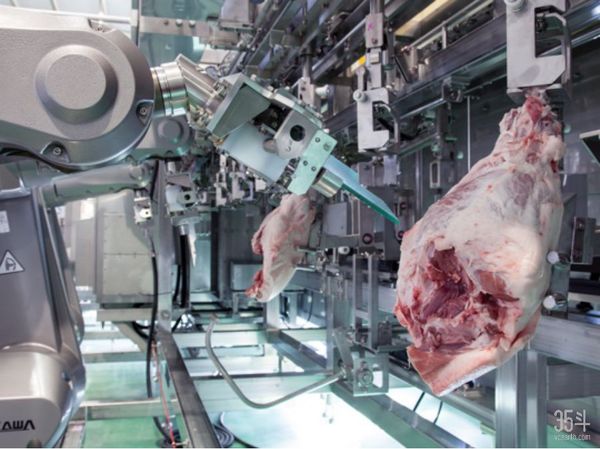 According to the Market Research Report of technavio, the global meat industry robot market will expand at a compound annual growth rate of nearly 11%. The growing demand for high productivity in the meat industry is considered to be one of the main driving forces to stimulate the growth of the whole meat industry robot market.
Meat related business owners are more and more inclined to introduce robot technology in daily production and operation, in order to optimize productivity by extracting the maximum edible meat from poultry within the specified time. Modern robot technology also further enhances the operation of meat, such as processing, cutting and packaging. Robots used in the industry can achieve up to 95% accuracy in automatic cutting, because they can accurately determine the specific position of the bones in the body of the animal to be cut through some algorithms, so as to extract high-quality meat.
After the global economic slowdown caused by the financial crisis in 2008, the sales of robots declined sharply in 2009. However, the subsequent data show that the sales of robots continue to grow after 2010. Nowadays, faced with the challenge of cowid-2019, many large meat suppliers in the world have their factory workers shut down due to a large number of new infections or prevention of infection. However, consumers' rigid demand for meat still needs to be met. Therefore, we should pay more attention to the role of robot automation in meat processing under the influence of the epidemic.
Robots can bring many advantages to the whole meat industry. First of all, robots can replace skilled labor. Finding qualified workers to do this difficult and potentially dangerous work may be one of the major challenges for factory operators.
Robots can also help manufacturers better comply with the strict government health regulations set by various countries. As long as there is human contact, there will always be the possibility of contacting with human bacteria, thus causing the risk of spreading bacteria in food. Therefore, robots may be the most hygienic choice. Most of them are made of stainless steel, which can withstand super high pressure cleaning and full coverage, and can prevent any substance in any part of the robot from contacting with food.
The largest consumption of meat in the United States is beef and other poultry. Therefore, North America has a complete meat industry chain, and many meat industry operators in the region are trying to expand the productivity of red meat to meet the growing demand of ordinary consumers. In turn, this will further expand the proportion of robotics used in the U.S. meat industry.
The global robotics market is generally divided into meat cutting robots, meat processing robots and meat food packaging robots by type. At the same time, they are further differentiated by end users (such as poultry industry and cattle industry) and geographical location (America, Asia Pacific region and Europe, Middle East and Africa markets).
35 Dou summarized the following four companies involved in meat processing robot business, including KUKA, Scott Automation & Robotics, mayekawa and JLS automation, to manage and test the actual application of robot technology in the meat processing industry.
KUKA robot in Germany
KUKA robotics was founded in 1898 and is headquartered in Berlin, Germany. KUKA robotics offers a wide range of industrial robots and robotic systems. KUKA robotics was acquired by Midea Group on May 18, 2016.
KUKA robotics provides customized automation solutions for customers' specific applications and industries, and can develop robot systems according to customers' specific needs. At the same time, it provides comprehensive technical services, including robot collaboration plan, to help customers realize the full potential of their robot products.
Figure: KUKA robot combinations of different customized sizes

图片来源:KUKA公司官网
KUKA robot (Shanghai) Co., Ltd. is a wholly-owned subsidiary of KUKA robotics in China. Founded in 2000, KUKA robotics is one of the world's top industrial robot manufacturers. The annual output of industrial robots of the company exceeds 10000, and 150000 industrial robots have been installed in the world. KUKA can provide standard industrial 6-axis robot with load from 3kg to 1000 kg and some special application robots. The working radius of the manipulator is from 635mm to 3900mm. All of them are controlled by a controller based on industrial PC platform. The operating system adopts Windows XP system.
We all know that meat processing is a labor-intensive industry, and it needs consistent safety agreements to protect the health and safety of operators, so as to ensure the health and safety of consumers.
KUKA robotics says its Kr 125 robot can cut pork at a high cost-effective and high standard. The robot will use image recognition system to judge the accuracy of cutting. Because of the pre judgment, the pork after robot cutting can still remain attached, which can improve the freshness of meat and the traceability of meat parts. Modern robot meat cutter can also be customized according to the user specifications. For example, pork is cut more strongly than normal bacon, and vice versa.
SCOTT Automation & Robotics
Scott Automation & Robotics is a provider of automation and robotics solutions. It was founded in Dunedin, New Zealand in 1913 as J & AP Scott engineering company. The company was listed on the New Zealand stock exchange in 1997 by issuing shares (in kind) from the diversified company Donaghy's limited. At that stage, Scott only focused on the home appliance industry, mainly selling its home appliances to the North American market.
In early 2018, Alvey group was acquired by Scott Automation & Robotics, which is headquartered in Belgium and has operations in France, the Czech Republic and the UK. This important addition of Scott group has brought more than 250 high-quality employees, whose professional knowledge has greatly increased the existing product range and software functions of Scott Automation & Robotics.
Also after the acquisition of Alvey group, Scott Automation & Robotics intensively acquired transrobotics, a US based AGV manufacturer. At this time, Scott Automation & Robotics was completing the whole production process from receiving raw materials to final distribution, thus building a complete end-to-end robot product, which also laid the foundation for Scott Automation & Robotics to enter the meat processing industry later.
Scott Automation & Robotics now specializes in the design and manufacture of automated production, robotics and related machinery. As a global expert in automation and robotics solutions, Scott Automation & Robotics aims to improve the productivity, reliability, product quality and safety of industrial manufacturers and processors, especially in the global electrical, meat processing, mining, material handling and industrial automation industries.
Here are the related products of Scott Automation & Robotics in the field of meat processing.
Beef auto-liner robot
The system combines x-ray (DEXA), 3D scanner, color camera and robot technology. Robot beef scriber is being developed in cooperation with Australian meat and animal husbandry.
——The robot integrated with scribing saw and induction technology can be used to accurately determine the position and contour before cutting;
——Each shift can save about 2-3 operators' labor;
——Eliminate the artificial strain caused by the use of dangerous equipment, or the risk of injury and trauma;
——It has higher processing efficiency and reduces the possibility of rework due to the consistent and repeatable operation of the robot;
——Great improvement of operation quality: consistency and quality assurance of robot operation;
——Reduce pollution, compared with manual operation, reduce the source of pollution.
Pictured: SCOTT Automation and Robotics' beef auto-dasher robot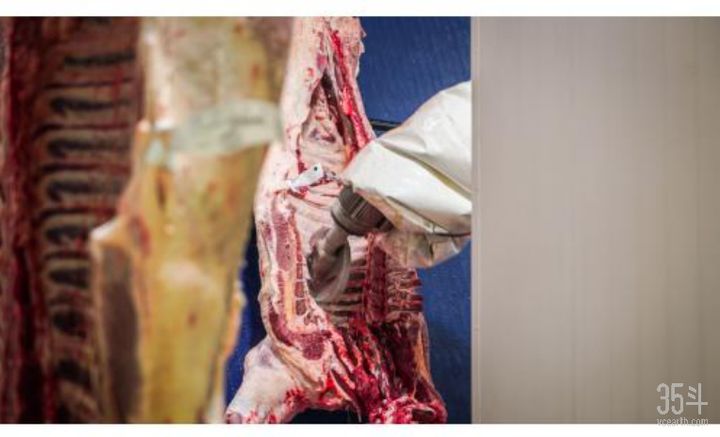 图片来源:SCOTT Automation & Robotics公司官网
In addition, Scott Striploin saw, a robot cooperating with beef automatic marking robot, is specially designed. The Scott Striploin saw is equipped with sliding table, inclined blade, laser guide plate, control handle and emergency stop device, so as to provide the safest and most effective method to remove ribs from the spine.
Scott Striploin saw keeps a safe distance between the hand of the bone removal machine and the band saw blade, and uses the laser line to assist them to set the best cutting profile. The design of Striploin saw means that it needs less strength and skill than traditional saw, and can produce consistent neat and straight cut, so that it can carry out simple and accurate cutting, at the same time, the improved safety function can improve the product quality and increase the output of effective meat. Specifically, after removing the residual meat on the bone, Striploin saw can further extract the residual meat on the removed bone, and ensure that the meat can be separated and extracted while maintaining the integrity of the bone.
Pictured: Beef auto-dasher robot with robot——SCOTT Striploin Saw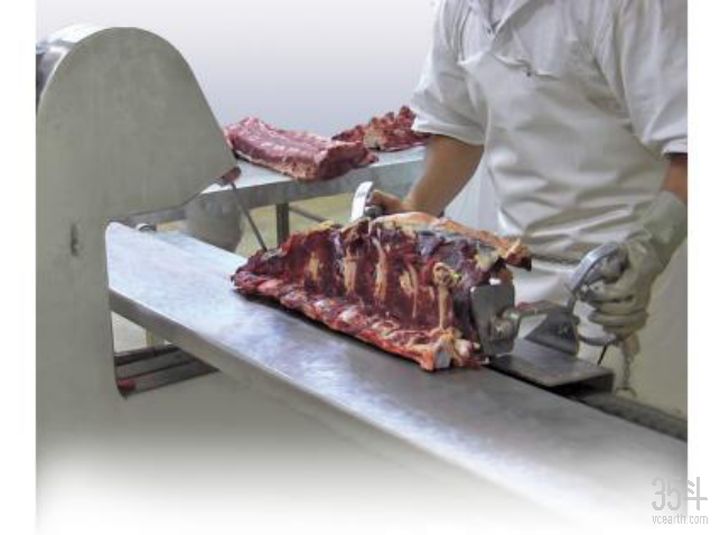 图片来源:SCOTT Automation & Robotics公司官网
Mayekawa
n 1924, kisaku mayekawa founded mayekawa & Co. in Tokyo, Japan. Mayekawa started with ice making and refrigeration. Since its establishment in 1924, they have always adhered to the concept of harmonious coexistence with the environment for collaborative creation. In the 21st century, global warming has accelerated. In order to achieve a sustainable society, mayekawa developed several refrigeration systems suitable for the required temperature and humidity using five natural refrigerants called "natural five": ammonia, carbon dioxide (CO2), air, water and hydrocarbons (HC).
At the same time, due to its outstanding development in the field of industrial manufacturing, mayekawa, with its unique components and engineering technology, has made contributions to the industrial fields outside the refrigeration industry, such as the development and delivery of special robots for automatic bone removal of chicken and pork.
In 2019, mayekawa delivered the first "legdas" automatic chicken leg osteotomy machine. Mayekawa's robotics technology can provide performance equivalent to that of skilled workers. By simply learning machine operation, we can train high-quality labor force in a short time, and reduce the common occupational injuries such as tendinitis, so that the robot provides a more friendly working environment for workers.
Pictured: mayekawa's practice in the field of food processing

图片来源: Mayekawa公司官网
Mayekawa's robot achieves a high degree of hygiene by keeping contact with the human body as low as possible when processing meat. In addition, automation already reduces the source of pollution. In addition to the unique engineering design for each specific production line process, mayekawa also provides the best solution for different customers' production line needs by combining advanced equipment and software engineering centered thermal technology (including thermal technology for production management system and traceability), so as to maintain stable production and supply. In particular, for those factories with labor shortage, for example, under the influence of the epidemic, it is believed that the vast majority of factories have labor shortage to varying degrees. Mayekawa has made contributions to the stable production and supply of meat products by using automation technology.
For example, hayekawa's meat processing robot, hamdas-r, can process irregular soft objects with faster processing speed than manual processing, which can ensure that hamdas-r can produce products with good appearance and high quality that only manual processing can provide before.
In recent years, the number of employees who are willing to engage in meat processing has become increasingly scarce, which will not meet the staffing needs to ensure the continuous production of the processing plant. In addition, the turnover rate of related workers is very high, and it is difficult for these workers to maintain effective long-term bone removal work.
Due to the softness of the meat and the different shapes of each piece, the automation of the bone removal process has become a challenge. So far, this work is generally done by hand, because it requires professional technology to remove bone from the meat efficiently and effectively. However, few professional technicians can carry out this work quickly and easily.
Hayekawa's meat processing robot, hamdas-r, enables some bone removal and segmentation links to realize automatic processing, while ensuring faster and more accurate processing efficiency and better consistency of processed products. In the segmentation process, there will be no raw meat contact with the staff, and the contact between the hands of the operator and the final product will be minimized.
Pictured: Mayekawa's meat processing robot HAMDAS-R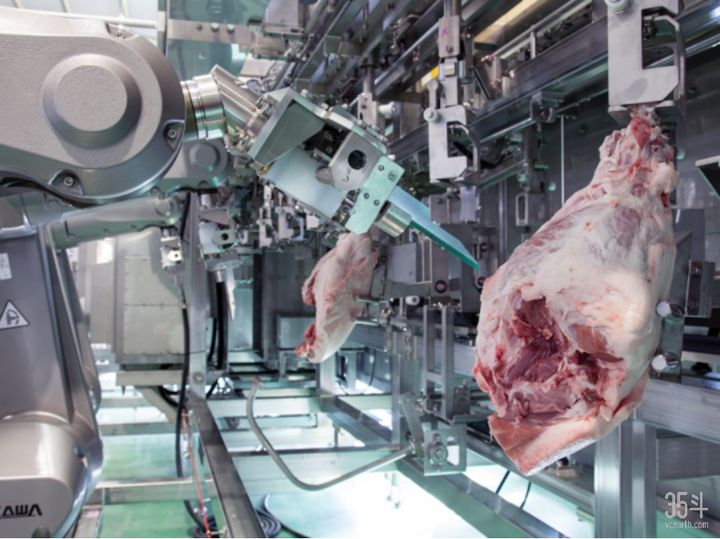 图片来源:Mayekawa公司官网

通过使用HAMDAS-R代替劳动密集型且需要熟练技能的手动猪肉火腿去骨工作,肉类加工公司可以在去骨相关领域减少50%~60%的劳动力(从12人减少到6人)。
此外,HAMDAS-R减少了工人可能出现的与工作有关的伤害,例如工人减少了肌腱炎和割伤的可能性。同时,对于去骨工人的高离职率,需要培训高技能的劳动力以及难以熟练去骨的问题,都可以通过安装HAMDAS来解决。HAMDAS可以保持去骨肉质量的稳定性, 通过以恒定的加工速度去骨,产生与手工完成相当的产量,同时保持所需水平的去骨技术,最后确保了稳定且一致的去骨肉品质。
JLS Automation
JLS automation is an industrial automation company, providing robot box packaging system. Founded by Joseph L. souser in 1955, JLS has the experience of successfully implementing advanced motion control technology in many industrial applications requiring accuracy and reliability. Their history of packaging automation can be traced back to 1993, when they signed contracts with relevant food processors to transform and upgrade their existing automation machines and systems and related meat and poultry packaging solutions.
Today, JLS automation provides a simple and easy-to-use solution for hygienic robot packaging, aiming to optimize the operational performance of the food industry. JLS is specially designed to ensure a safe and healthy environment. JLS customized visual guidance level 1 and level 2 robots are user-friendly, easy to operate, quick to start and ensure the safety of workers and food. The company's proprietary robot tools and leak detection system have won a number of patents.
Whether it's fresh chicken breast or need to be sliced meat into pallets or other packaging machine, JLS can provide customers with solutions. The packaging was vacuum isolated and map (modified atmosphere packaging) was applied to fresh meat.
Pictured: JLS Talon ® robot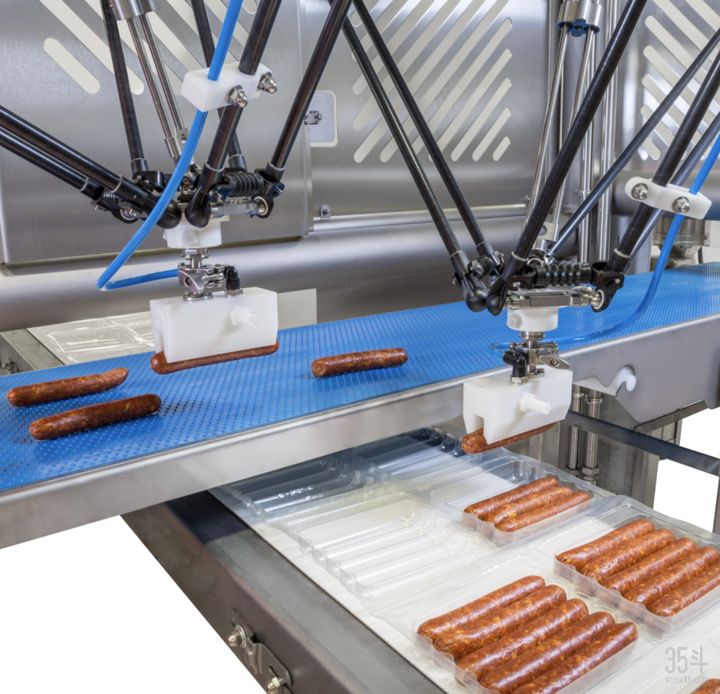 图片来源:JLS Automation公司官网
The following are the general steps of robot processing of meat packaging machine produced by JLS automation:
First of all, JLS packaging robot will cut some steaks (such as filigree) or other ribs into blocks that can be loaded into plates and move them into map trays. Then, it will put the map trays filled with food into the main packing box or main packing bag. Then, it will carry out vacuum packaging in the food industry. Finally, it will carry out the follow-up work such as automatic packing, automatic sorting and thermoforming bags.
Meanwhile, jlstalon ® The robot taking and placing system is a highly hygienic and widely used food packaging product processing solution. It can ensure food safety under safe operation. At the same time, unprocessed or exposed products can be directly loaded into thermoforming packaging, and then enter the next mobile package, MAP or foam tray. In this way, the possible health pollution or other potential risks in the process of food packaging can be reduced as much as possible. The ultimate goal is to minimize manual operation and achieve efficient online process, so as to speed up the processing time, save labor and improve the quality of products.
Summary